Our Foundress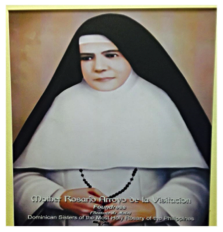 A Tribute to Mother Rosario
Contributor:  Sr. Jeanette Loria
This year's celebration of the feast of the Most Holy Rosary was one of the most memorable and unforgettable celebrations that I have ever experienced.  It began when the two communities in San Francisco started the Rosary Novena on September 28 and concluded it on October 7, the feast of Our Lady Queen of the Most Holy Rosary.  Each day we started our novena with evening prayer followed by Rosary and prayer for the beatification of Mother Rosario and ending with the song, "Mother Rosario Be Our Guiding Way." It was well attended by our Lay Associates and some friends who were faithful to pray with us for nine days.  On October 6 (Oct. 7 in PI), we scheduled our novena at 6 PM so that it will coincide with the Mass for the launching of the canonization of Mother Rosario.  While Sr. Leonarda was making announcements about the celebration, many of us were moved and couldn't help but shed tears of joy.  Mother Rosario Arroyo, a humble follower of Jesus  and the foundress of my Congregation will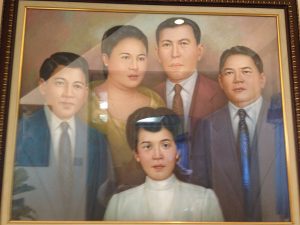 be canonized!  I felt a deep sense joy and gratitude to God who willed and called me to be in this Congregation. 
On October 7, we invited Msgr. Jose Rodriguez to be our main celebrant and homilist together with Fr. Warlit  Namo who concelebrated with him.  Msgr. Jose shared a very important and interesting information about the Dominican Order in general and the lives of Saint Dominic and Mother Rosario.  The celebration ended with a hearty potluck dinner.  I thank the Lord and Mother Mary for all the graces and blessings that our Congregation has received and pray that our foundress  Mother Rosario will always intercede for us.  I hope that we will follow her example especially her love for the poor and her devotion to the Rosary and help spread it throughout the world.
            Thank You Mother Rosario
    Mother Rosario, God's word has come to you.
        To leave everything even your comfort and home.
          To follow God's ways and to live his life.
              For your true riches was to give yourself to Christ.
    You knew that dangers and sufferings await you.
        Yet your love conquered your fears.
           Even war and uncertainty didn't weaken your heart
              When you faced them all with faith and love.
Dear mother, your love and devotion to Jesus and Mary.
      Is mirrored in your love for all creatures.
          May this same love transform us all.
             Every time we witness the message of the Gospel.
Mother Rosario your teachings surpassed mere words,
      For the lessons you taught, you truly lived.
     " To love thy neighbor as you love thyself."
            And to love God in the poor of this world.
We pray to you dear Mother Rosario.
     Be with us wherever we may go.
        To live as true Dominicans and so imitate you.
            In sowing the seeds of virtues and to live anew.
Glory be to our Father who bestowed on us our foundress.
Glory be to Jesus whose life He shares with blessing and with        
                                   grace.
     To the Paraclete whose love inspires all humankind.
  That we may honor God's majesty through all eternity.
                                      Amen. 
Shared by St. Charles Convent
A Tribute to Mother Rosario's Life and Legacy
By Sr. Cecilia Fabular, O.P.
Mother Rosario, known as the woman of faith,
Lived a simple life, humble and prayerful.
I didn't know you personally, but your life of holiness radiates God's glory.
You are called, Mother Sayong compassionate to the poor.
You have left everything to follow Christ our savior,
Who is rich, yet choose to be poor.
Mother Rosario, great lover of poverty, and   piety.
Gentle by nature, self- giving and always joyful.
You embrace Jesus' life by following his example.
Who is rich, yet choose to be poor.
Mother Rosario, faithful servant of the poor,
You are God's greatest gift to us in Molo
You founded a Congregation, known as the Dominican sisters of the Most Holy Rosary, OP Molo
Intercede for us, your sisters in Christ
Who promised to remain faithful to our vows
May your way of life be our constant guide,
To follow Christ the way, the truth, and the life.
"  Place the needs of the Congregation above yours and I will rest in peace.  May God bless your efforts so that we will one day meet each other again".  ,
"Sisters, this is not the time to rest.  There is plenty of works to be done and plenty of prayers to be said.  Do not stop praying… pray while you work, pray while you travel and pray wherever you are" .  Mother Rosario 
Reflection on Mother Rosario
By Sr. Scholastica Mondejar, O.P.
It is an honor to celebrate the launching of our foundress canonization, Mother Rosario Arroyo, the Servant of God. She was born to a wealthy family yet she lived a life of poverty, holiness, and self-sacrifices. Caring for the poor became the primary focus of her life. Like Mother Rosario, it is time for us now to be prayerful, to renew our fervor, and live a life worthy of our calling as Dominican Sisters. That will be a big miracle as the Church is working for her canonization.
By:  Sr. Leonarda Montealto, O.P.
I would like to take this opportunity to thank the Mother Rosario Committee for the many hours of hard work and dedication that made the Launching of Mother Rosario's Canonization a success.  The real inner work and miracles continue as we work on our personal conversion as religious and followers of Mother Rosario.  Let us continue to hold each other in prayer so we can truly be the bearers of Good News to all the people that we teach and meet in our ministry.  May our prayer life be a continuous witness to all that we encounter in our everyday through the examples and prayers of Mother Rosario.
---
A Brief Biography
MOTHER ROSARIO ARROYO, OP

Prepared by: MRAC (Mother Rosario Arroyo Commission)
Sr. Visitacion Alecto, OP – Chairperson
Sr. Virgilia Rivero, OP
Sr. Ascension Zambra, OP
Sr. Eleanor Garlito, OP
I. Birth and Childhood
The year 1884 was a period of great unrest. The Philippines was struggling to free herself from the fetters of Spanish oppression. Of proud Malayan race, the Filipinos could no longer tolerate the foreign dominion. The quest for freedom continued fearlessly amidst the turmoil. A new hope was born.
On February 17, 1884, Mother Rosario was born in Molo, Iloilo City , Philippines . She was the only daughter of a wealthy couple, Don Ignacio Arroyo and Dona Maria Pidal. She had four brothers. Two died in infancy. Jose, the older, brother was a lawyer and became a senator in 1917. Mariano, the younger sibling, was a physician and became the governor of Iloilo in 1928.
She was baptized at Sta. Ana Church in Molo on February 20, 1884 by Fr. Agapito Buenaflor and was named Ma. Beatriz del Rosario Arroyo. Her first teachers in morality were her parents who developed her innocent vice and childhood pranks into Christian values. A noteworthy tradition of her family was almsgiving. Mother Rosario participated in this corporal work of mercy. This made her aware of the misery and plight of the poor and be more compassionate with them.
The greatest obstacle to her piety could have been their affluent standard of living. With this wealth, she could have lived the life of a vain princess but she lived without superfluity. Unspoiled by the abundance surrounding her, she preferred a simple life. When she became an heiress, she donated her inheritance to the congregation.
II. Education
Mother Rosario first attended classes at the Colegio de Sta. Ana, a private school in Molo. In preparation for her first communion, she was transferred to Colegio de San Jose administered by the Daughters of Charity. She stayed at the Colegio until she finished her elementary education. She was then sent to the Beaterio de Sta. Catalina, the oldest boarding school in the country in Intramuros, Manila. She learned music and was good in playing piano and organ, the popular course for the elite of her time.
III. Religious Life
At the age of 27 she entered the Congregation of the Dominican Sisters of Sta. Catalina de Siena. After six months of postulancy, she received the religious habit and was given the name Sr. Rosario Arroyo de la Visitacion. She made her first profession on January 3, 1914.
Sister Rosario was assigned to work and teach in Colegio de la Nuestra Senora del Sto. Rosario, Lingayen, Pangasinan. It was in this place that she became sickly. Knowing about her poor health , her parents visited her in Lingayen. Sister Rosario told them that the cause of her sickness was the direct blowing of the wind through the broken windows of the convent and school. Don Ignacio had the building fixed immediately. Sr. Rosario went home for rest. After her recovery, she went back to a convent school in Manila. She took charge of the boarders and taught at the same time. She did her assignment with enthusiasm.
Usually her brother, a senator, would visit her before going home to Iloilo and would bring her letters to their parents. One day, he went home without informing Sister Rosario. On that day her mother died. She accepted the death of her mother with equanimity. She believed her mother died a happy death because she was a very pious woman.
Don Ignacio asked her to spend her vacation in Iloilo. To console her father for the death of her mother, she acceded. Her father was happy to have her around. He even pleaded with her to stay with him but she was determined to return to the convent and continue with her religious life. The father advised her to bring for the convent as much money as she wished but she refused. She was detached from material goods and focused her attention to what was spiritual.
IV. Foundation in Molo
Early in their married life, Don Ignacio and Dona Maria wanted to give part of their wealth to support a religious foundation. The Most Rev. James McCloskey, DD, the last American Bishop of Jaro, was aware of their intention. He made proper preparation for the foundation of the Beaterio del Smo. Rosario in Molo, Iloilo City . On July 24, 1925 he obtained the necessary permission from the Holy See. Through his intervention, the Congregation of the Dominican Sisters of St. Catherine of Siena allowed Mother Rosario Arroyo and two other Sisters to pioneer the foundation. They left for Iloilo on February 18, 1927.
Don Ignacio and Dona Maria gave up their residence in favor of the Sisters. A free school was built nearby. Soon after many homeless girls came into the door of the convent and they were taken in, cared for and educated. Many of them joined the Congregation later.
During World War II, Mother Rosario was advised by the family, relatives and friends to send home the Sisters and girls. She refused to do so telling them, "No, we live together and if we die, we die together". The Sisters were forced by the Japanese to leave the Motherhouse. The convent and school were converted into a military garrison. The Sisters and their ward took refuge at the parish church of Molo , Iloilo City . On March 10, 1945 the Motherhouse was bombed and destroyed by the Americans believing there were Japanese staying there. The charity school was also destroyed. The Sisters felt devastated that their convent and school were reduced to rubble. When the American soldiers began shelling the church, some Sisters went out of the sacristy. Upon seeing them, the soldiers stopped firing.
After the war the rebuilding of the convent became the priority of the Sisters. When they had settled down from the chaos of rebuilding, Most Rev. Jose Maria Cuenco, D.D. , the successor of Bishop James McCloskey, asked Mother Rosario to let the Sisters teach in the schools, particularly in parishes. Sisters were sent to College to earn their teaching degrees. Formation of the youth was a cherished nucleus in the heart of Mother Rosario.
During the first General Chapter of January 3-6, 1953, Mother Rosario was elected as Superior General. She stayed in office until her death on June 14, 1957.
V. Pious and Virtuous Life
Before entering the convent she nurtured her prayer life by frequently visiting the Blessed Sacrament. She was often seen absorbed in prayer before the Blessed Sacrament reserved in their family chapel. Prayer was her way of asking God's blessings for the family and other peoples. She would invite her neighbors' children to pray the rosary kneeling while she led the prayers.
As a religious she had a great devotion to the Holy Eucharist and to the Lord in the Blessed Sacrament. Her devotion to the Holy Eucharist inspired her successors to have in the chapel the daily exposition and adoration of the Blessed Sacrament. She loved the Blessed Virgin Mary very much that when she was not occupied with her duties as superior she would spend time praying the rosary. Every image of the Blessed Mother received an Ave Maria every time she passed by it. She moved around the corridors with her lips moving in prayer. In her Will and Testament she stipulated that the different feasts of the Blessed Virgin should be celebrated with a high Mass.
Mother Rosario was a soul full of charity. Her love for God was expressed clearly in her love for her neighbors. Her love for the poor, the needy and the sick was outstanding. She would personally care for the sick Sister. If hospitalization was needed she would call for her brother Mariano, a physician at the St. Paul 's Hospital and would order the best food for the sick Sister. She treated her Sisters equally, lovingly.
She was patient and understanding of human frailty. On one occasion the Sisters reported to Mother Rosario that they were being bothered when sleeping by the snoring of a Sister. Mother Rosario said, " Do not be disturbed. She is serenading our Lord." She was truly sympathetic of human weakness.
As she advanced in years she also advanced in the love of poverty. She was very observant of this vow. Her love for simple things and her detachment from material and worldly goods could not go unnoticed. She used with great care her belongings and those of the community. She wore darned and patched clothing and had very few of them. A scion of affluence, she modeled the religious poverty and simple life. Her simplicity enabled her to share what she had with the poor, sometimes even giving to the sick neighbors the food prepared for her. Vanity did not have a place in her heart. Despite her position and patrimony, she never boasted of them. She preferred the obscurity of the convent life. She was strict but had a listening heart to the needs and concerns of her Sisters and other people she encountered.
Mother Rosario left footprints of virtues. She distinguished herself by a solid piety, love of prayer and strict religious observance. Her life clearly mirrored the virtues of purity and innocence, deep simplicity and profound humility, ardent love for the poor and the needy. As a religious , she was an example in the observance of the vows, the Holy Rule and community life. She was strict in discipline but only because she herself lived it.
During the celebration of the 25 th death anniversary of Mother Rosario, the late Jaime Cardinal Sin, then Archbishop of Jaro and later of the Archdiocese of Manila cited her, saying; "For me Mother Rosario personifies the religious woman of today…a woman of God, a woman of prayer, a woman of continuous conversion, a sign of salvation, a witness of community and communion of life in the imitation of the Trinity, a daughter of the Church and a faithful administrator of great heritage."
VI. Death
Mother Rosario died peacefully on June 14, 1957 at the age of 73 after receiving the Holy viaticum and anointing while being surrounded by her Sisters. Her funeral was attended by both the ecclesiastical and civil dignitaries and the poor people whom she loved and for whom she dedicated her life. She was buried in Molo cemetery and later was transferred to the Motherhouse chapel.
MOST REV. JAMES MC CLOSKEY
On July 15, 1925, Most Rev. James Mc Closkey , the last American bishop of Jaro, Iloilo City, Philippines, went to Rome, Italy to personally submit to the Sacred Congregation for the Religious a petition for the foundation of a Dominican congregation in Iloilo City. The following day, he received a verbal communication to go ahead with his plans. On July 24, 1925 , he was given the official approval for the establishment of the new Dominican congregation. It was affiliated to the Order of Preachers on January 16, 1959 . It was elevated to the status of Pontifical Right on October 7, 1985 .
ST. DOMINIC DE GUZMAN
Dominic de Guzman was a man with a dream that became a reality.   Born in 1170 in the village of Caleruega in the kingdom of Castile , he founded a family, the Order of Preachers, that would one day reach out and touch every part of the world.
Dominic began as a priest of the Diocese of Osma in what is now northern Spain .   He was a canon (clergyman) assigned to the cathedral.   His peaceful life there was suddenly disturbed by a journey into northern lands.   Bishop Diego asked Dominic to accompany him on a mission from King Alfonso VII to arrange for the marriage of his son.   As Dominic traveled beyond the borders of his own country, he encountered for the first time the great need of the people to hear the Word of God preached well and in a way that would respond to their spiritual longing.
Priests at that time were generally not well educated, and many of the clergy, priests, and bishops alike lived extravagant lives that were scandalous to the people.   Dominic soon realized that, in order to be a credible preacher he had to be rooted in the Gospel he proclaimed.
It was not long afterwards that Dominic returned to southern France and began to gather other men who shared his dream.   Even before the Order of Preachers was officially approved in 1216, Dominic had also established a community of women in Prouille who would participate in the preaching mission through dedicating their lives to prayer in community.
By the time Dominic died in 1221, the Order of   Preachers was already on mission in France , Spain , Italy , England , Hungary , Poland , Greece , Germany , and Scandinavia .   Four monasteries of the Dominican Sisters had been established, and plans were under way for expansion.
The Order has been in existence for 790 years. Today the Order of Preachers is worldwide and includes priests, religious brothers, contemplative nuns, and active sisters as well as thousands of lay people who have dedicated their lives to the proclamation of the Gospel.   The dream of Dominic is continuing to be realized in our own time.
Important Dates to Remember
February 17, 1884 – Birth of Mother Rosario
February 20, 1884 – Baptism of Mother Rosario
January, 3, 1914 – First Religious Profession of Mother Rosario
July 24, 1925 – Official approval granted to Bishop McCloskey for the establishment of the new congregation
1933 – Juridical Independence from Beaterio de Sta. Catalina
1935 – Death of Don Ignacio Arroyo
1945 – Americans bombed the Motherhouse
1953 – First General Chapter Mother Rosario, OP elected Superior General
June 14, 1957 – Mother Rosario died
1957 – 2nd General Chapter Mother Natividad Vidal, OP elected Superior General
1959 – Affiliation to the Dominican Fathers
1963 – 3rd General Chapter Mother Natividad Vidal, OP reelected Superior General
1969 – 4th General Chapter Mother Amparo Elmido, OP elected Superior General
1975 – 5th General Chapter Mother Amparo Elmido, OP reelected Superior General
1981 – 6th General Chapter Mother Visitacion Alecto, OP elected Superior General
July 24, 1982 – Exhumation of the remains of Mother Rosario
Oct. 7, 1985 – Approval of Pontifical Status of the Congregation
1987 – 7th General Chapter Mother Visitacion Alecto, OP reelected Superior General
1993 – 8th General Chapter Mother Amparo Elmido, OP elected Superior General
1999 – 9th General Chapter Mother Felicitas Macsera, OP elected Superior General
2005 – 10th General Chapter Mother Celestine Bancal, OP elected Superior General
MOTHER MARIA ROSARIO ARROYO, O.P.
---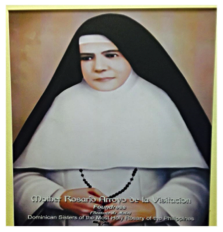 Miracles Attributed to Mother Rosario Arroyo
Evidence of miracles by the founder of the Dominican Sisters of the Most Holy Rosary, is growing.
Iloilo City (AsiaNews/UCAN) – Overcoming aneurism, leukemia, and cancer are among the first documented miracles attributed to Mother Rosario Arroyo, founder of the Dominican Sisters of the Most Holy Rosary, a Filipino congregation.
Members of the congregation are hoping that appeals answered in the name of their founder might increase and thus facilitated the process of beatification of the nun who died in 1957.
In Molo (near Iloilo City), where the congregation is headquartered, Sister Eleanor Garlito explains that the "first known miracle" attributed to "Mother Sayong" as she is called occurred in 1983 when a Manila woman, Angela Palma, was diagnosed with cancer.
Ms Palma, who is originally from Iloilo (about 450 km south-east of Manila), is devoted to Mother Rosario. She began to pray through her intercession in order to be cured and, to the surprise of her doctors, she lived for another 20 years.
In May 2004, Sister Maria Nemia Daral, a Dominican Sister in the same congregation, developed an aneurism. She was flown to Manila for surgery, but before she could go into the operating room, another Sister gave her a 'bendico', i.e. a piece of Mother Rosario's veil, wrapped in a plastic envelope and asked her to pray for Mother Rosario's intercession for healing.
Sister Daral, who is the principal of the St Joseph Academy in Bugasong, a province that borders Iloilo, is now in perfect health, very active, and no longer taking any medication.
The latest miracle involves a poor woman called Dalumpines who was diagnosed with leukemia.
According to Sister Garlito, the woman was "miraculously cured"—last April, she was found disease-free without undergoing therapy or blood transfusions as prescribed by her doctors.
Sister Garlito is one of the six members of the Commission documenting the miracles attributed to Mother Rosario. The Commission's work is crucial for opening the cause for beatification. All the evidence is in fact collected and then sent to the Vatican Congregation for the Causes of Saints which vets it in so far as it can be attributed to the candidate's intercession. If it is determined that a miracle has taken place, the candidate is beatified and becomes a "blessed".
Late February 9, Archbishop Angel Lagdameo, Archbishop of Jaro, gave his blessing to the Commission on Mother Rosario. He also authorized the publication of a prayer to Mother Rosario originally approved by the Archdiocesan Liturgical Commission.
Mother Rosario, whose real name was Maria Beatriz del Rosario Arroyo, was born in a rich Molo family in 1884. Her father was a town leader and her mother was of Spanish-Filipino descent.
Mother Rosario founded the Congregation of the Dominican Sisters of the Most Holy Rosary of the Philippines on February 18, 1927.
She died of heart failure in 1957 and was buried in Molo cemetery.
Her body was exhumed 18 years later in 1975 so that it could be moved to a crypt in the congregation's motherhouse. When her coffin was opened, the Sisters found the body still intact.
The motherhouse stands on a hectare of land donated by Mother Rosario's parents.
The 2004 Catholic Directory of the Philippines lists the Dominican Sisters of the Most Holy Rosary as having 271 members. The Sisters run 31 schools, two colleges, two retreat houses, a charitable institution and a clinic.
About 40 or more sisters work in foreign missions.