News
Holy Angels Community Common Reflection as we Give Thanks…
Psalm 107:1 8-9
Give thanks to the LORD, for he is good; his love endures forever. Let them give thanks to the Lord for his unfailing love and his wonderful deeds for mankind, for he satisfies the thirsty and fills the hungry with good things.
Sr. Marjorie reflected on giving thanks for the "Gift of Life" the Lord has given us.
Blessed be the name of God Almighty who has created life for his pleasure and glory. Blessed be God who formed me in the womb and knew me before I came into being. Lord my God, author and preserver of life: I thank you for allowing me to exist, I thank you for having created me out of nothing and for making me a unique being, full of gifts that reflect your image. I consecrate to you my life anew to thrive in your presence and in the designs of your Holy Will.
Sr. Merced is giving thanks for the "Gift of Family".
George Bernard Shaw says that a happy family is but an earlier heaven. It is so true that our family is a link to our past and a bridge to our future. We thank God for our family who gave us life and love.
Spend a few quiet moments in prayer, thanking God for calling us to be part of God's Holy Family, for giving us at baptism and at confirmation the gift of the Holy Spirit. This Spirit has been poured into our hearts and dwells within us, binding us together as part of God's family.
Sr. Esther give thanks for the "Gift of Community"
We gather in community, with all its joys and sorrows, primarily because:
it expresses our desire to witness to our oneness with God and with each other in the love of Christ;
it can be a visible living-out of the common vision of our religious congregation to which we belong;
it helps us support each other in the mystical pilgrimage of union in God's love — and "in the rigors of the inward journey"
Community life proclaims the reality that love of neighbor is indeed possible. Love and peace are possible among those who are not related, who do not choose each other, who are not necessarily friends.
In this light we commit ourselves to be present to each other in the glad times, and we willingly accept the burdens of the difficult times. We also allow each other the freedom to stumble along the spiritual path.
Sr. Delia reflected and give thanks for the "Gift of Vocation"
"Whether we live or die, we are the Lord's." This is the call of all of us, but again the world sees how this self-offering is made real in a most dramatic way in consecrated life. Every person in their reflection on life – may ask, "Can a person truly give themselves to God? Is it possible to be faithful to a vocation in Jesus Christ forever?" And we know the answer is "yes," not so much because of us but because the grace of God who calls us and sustains us. God knows the human hearts He has made. He knows the sacrifice of which we are capable. It is to this self-giving, self-sacrificing love that He calls us. This is the true meaning of love, human and divine: that God so loved the world, that He gave His Son; He gave Him to live and die for us. "None of us lives for oneself, and no one dies for oneself. All is for Him and His people; all is possible when we give our self to Jesus Christ. Thank you, God, for the gift of vocation. I am truly grateful.
Loving God, may I take on the mind and heart of Christ, that I may hear your call for my life and embrace your world through my prayer, my work, and my life with others, in Jesus Christ. Amen.
Sr. Nelia is grateful for the "Gift of Ministry"
Our gift of ministry is a wonderful example of God's love at work in us. People that we teach and touch say…thank you for teaching, guiding, inspiring and uplifting us. . .and most of all, thank you for bringing us closer to Christ. Mother St. Teresa of Calcutta said: "It's not how much we give but how much love we put into giving." In our gift of ministry, we are dedicated to reaching as many people as possible with the Gospel of Jesus Christ. While promoting unity within the body of Christ we seek to help equip, grow and strengthen believers.
1 Timothy 1:12
I am grateful to Christ Jesus our Lord, who has strengthened me, because he judged me faithful and appointed me to his service.
Sr. Leonarda give thanks for the "Gift of Benefactors and Friends".
I do not have enough kind words for benefactors and friends who answered the call to help us in our ministry. Their faithfulness, generosity, and compassion mean more to me than I can ever say. Their support lifts the community of students, faculty, staff, parents of students and all those involved in our ministry.
We continue to face financial challenges—not least of which is keeping tuition affordable for current and future students. Our mission is great, and it requires great resources. That said, I have placed my trust in the Lord and our benefactors for their continued support and friendship. They are indeed a blessing and a "GIFT" to us as we proclaim the Kingdom of God. As always, I am humbled and deeply grateful for their extraordinary generosity and dedication. I thank you from the bottom of my heart.
1 Corinthians 1:4
I give thanks to my God always for you because of the grace of God that has been given you in Christ Jesus…
---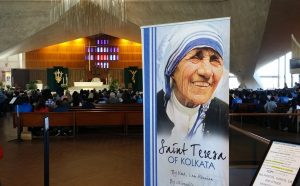 ---
A Reflection after 50 Years in Religious Life
By Sr. Leonarda Montealto, O.P.
June 11, 2016 the Dominican Sisters, Hawaii Region celebrated the "Gift of God's Call" as we gathered and give thanks for my 50 years of service in religious life.  Thank you, Sisters, benefactors and friends for celebrating with me.  We have pictures, videos and memorabilia to remind us of this celebration and God's love for us.  As we move on …Pope Francis' remarks keep echoing in my heart.  He said, "for some years now, instead of going forth, we seem to be returning.  We need to ask the question: Where is God leading me now?  Our communities, he said, should be like airports where there is constant taking off to new places without delays, without fear."  We may not need to move outside our own communities to find new places and new ways of living and serving the Lord.  St. Augustine tells us to keep on walking into the future.  Can we ask ourselves the vital question today:  "Is it time to move on?"
There is a great deal of life still to be lived. It simply depends on how we live it. To quote Sr. Joan Chittester, "We can die years before our time, or we can live until we die." Where age predominates, she said, "the community mind must become a young vision rooted in old values".  This is a beautiful thought to ponder as we move on with our life as a religious.
Each person makes her own individual journey to God. There have been great moments in all our lives – difficulties, too and challenges. Many people have crossed our path and supported us; we sometimes, perhaps, received more than we were able to give.
We made a difference in many people's lives.  People will forget what you said, but they will never forget how you made them feel. We as teachers are remembered by many of our students because of our love and caring traits as we teach and show compassion.
Pope Francis reflected on the three different looks which Jesus gave to the Apostle Peter – one of choosing, one of forgiveness and one of mission. Let us consider Jesus looking on us today as he looked on Peter. He chose us, he forgave us and he continues to point a way forward. Pope Francis urges us, too, to re-read that dialogue with Jesus and think about Jesus' gaze on us just as he gazed on Peter. The third look was a look of mission: "Feed my sheep."  We are called to feed the poor, the homeless, the imprisoned and those who are beset by the evil one.  In the spirit of Mother Rosario, our foundress, may we have a greater zeal and compassion to the people who need us the most.
He will rescue the poor when they cry to him; he will help the oppressed, who have no one to defend them.
Psalm72:12
---

Sister Leonarda Montealto, O.P. Celebrated her Golden Jubilee as a Dominican Sister of the Most Holy Rosary
My Golden Jubilee …A Loving Reflection of My Call
I give thanks to the Lord with my whole heart; I will tell of all His wonderful deeds…
The year was 1964. It was August 5th when I entered the Dominican Sisters Motherhouse in Molo, Iloilo City. I was young, just graduated from high school, but I was determined to follow the intense call of God to enter religious life. (Come to think of it, I don't think He gave me a choice. He was so persistent and I could not say NO.) I was a postulant for ten months and spent one year of enclosure as a novice. I made my first vows of Poverty, Chastity and Obedience on August 8, 1966.
God's call comes to people at different ages and mine came early. It was clear, total, spiritual, personal and loving. I knew then, and I know now, that God exists, that He is Pure Love, and that He invited me to a life of prayer and service to His People. Within the depths of my soul, I replied "yes." That was fifty years ago and here I am celebrating my 50th Anniversary as a Dominican Sister of the Most Holy Rosary. I can hardly believe that so many years have gone by. It is a mystery to where time goes.
My dear friends, my personal story is not about me at all. It is about God and His merciful and faithful love. If I were a flower my story would tell of the gentle hand that plucked me from the soil and held me close to His heart. If I were a bird, I would sing of the incredible Person who unlatched the cage, and freed me to fly to heaven.  Or if I were a blade of grass, I would bend and sway in the breath of the Holy Spirit, dancing in the wind. But I am none of the above. I am just me…myself, and I can only speak the silent language of love and praise as He pleases to give it to me.
My call, my vocation, my life is real. It can be seen in photos, home videos, and in the hearts of God's people, whom I am privileged to serve and call my family, my community and my friends.  Life seems to carry us along, minute by minute, day by day, year by year until a milestone is reached, and we look back and say "Where did the years go?"
June 11, 2016, this morning I held a candle and renewed my vows to God, my total giving of my life to Jesus, my Love, my Savior and my Friend.   Vows are very solemn things. Vows are sacred and absolutely binding, a total commitment of mind, body, and spirit.
"Ah, Sister Leonarda" I told myself, "it's true". This 50th Anniversary isn't so much about me…my vocation…my call, my life of service. That is a part of it certainly, but not the main part. For this jubilee most of all celebrates Jesus, His call, His faithfulness, His mercy, which as I so very well know, has been the anchor of my religious life, my magnet ever drawing me closer to God, my compass setting my life and all that goes into it in perspective. I can only pray in the silence of my soul, "To You, Lord, be the honor and glory forever and ever. Amen."
The Dominican Sisters and Holy Angels School take action to care for God's creation.
Caring for God's creation
Environmental issues and justice issues are intertwined elements of how we are called to relate to God's creation.
Why is this important to us?
We believe that environmental issues and justice issues are intertwined elements of how we are called to relate to God's creation both in human form and in the earth community.  Eco-justice asserts that it is not possible to care for the earth without also caring for humanity, and that seeking human justice must involve care for the environment.
Therefore, care for creation is part of our work for peace. The impact of climate change and the growing homelessness compel us to action. Much of the conflict we see in the world is rooted in competition for the land and its natural resources. Earth is an expression of God's creation and therefore the environment is a gift that must be respected and cared for by everyone.
Service to the Community
On Saturday, September 17, 2016 from 9:00am – 11:00a.m. Holy Angels School will join the Coastal Clean Up Day at Rockaway Beach. Mhaysie Ruiz, our school counselor, and other parents will coordinate this event for our school. Please come and join the families.
On the same day, Saturday Sept 17th our Sisters and other religious in the Archdiocese, will have a Picnic at Golden Gate Park with the homeless in San Francisco.   We will serve them food and drinks and have fun time with them at the park. We will give away T-shirts, jackets and other donations that we can give them. If you would like to support this work of service, please call Sr. Leonarda at 650 291-2343.
Holy Angels School Student Council and the Dominican Sisters will have a FUN FUND DRIVE selling snacks and FEE FREE Dress. The money will be sent to the Louisiana victims.
---

Dear Sisters and friends,
Meister Eckhart wrote…If the only prayer you said in your whole life was, "thank you," that would suffice.
It is so true that a grateful heart is so important in our relationship with God and others.  We continue to thank God for the gifts of life and vocation, our gift of each other as we hold each other in prayer, and our support for each other in our ministry.
"Enter into his gates with thanksgiving, and into his courts with praise; be thankful unto him, and bless his name. For the Lord is good…"
Psalm 100:4, 5a
I thank you from the heart for all your prayers for me and our Region.  For all our many tasks and intentions, we pray that in God's time our projects will be realized.  We always remember our benefactors and friends, both living and dead, who are always there to support us in many ways. 

He who thanks but with the lips
Thanks but in part;
The full, the true Thanksgiving
comes from the heart.
J.A. Shedd
Sincerely yours in Jesus,
Sr. Leonarda Montealto, O.P.
"Thank God for His Son—a gift too wonderful for words!"
2 Corinthians 9:15