Dominican History and Charism
Dominic de Guzman was a man with a dream that became a reality.   Born in 1170 in the village of Caleruega in the kingdom of Castile, he founded a family, the Order of Preachers, that would one day reach out and touch every part of the world.
Dominic began as a priest of the Diocese of Osma in what is now northern Spain.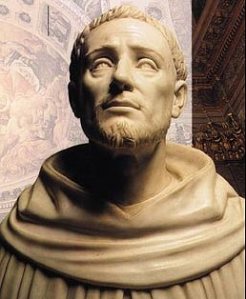 He was a canon (clergyman) assigned to the cathedral.   His peaceful life there was suddenly disturbed by a journey into northern lands.   Bishop Diego asked Dominic to accompany him on a mission from King Alfonso VII to arrange for the marriage of his son.   As Dominic traveled beyond the borders of his own country, he encountered for the first time the great need of the people to hear the Word of God preached well and in a way that would respond to their spiritual longing.
Priests at that time were generally not well educated, and many of the clergy, priests, and bishops alike lived extravagant lives that were scandalous to the people.   Dominic soon realized that, in order to be a credible preacher he had to be rooted in the Gospel he proclaimed.
It was not long afterwards that Dominic returned to southern France and began to gather other men who shared his dream.   Even before the Order of Preachers was officially approved in 1216, Dominic had also established a community of women in Proville who would participate in the preaching mission through dedicating their lives to prayer in community.
By the time Dominic died in 1221, the Order of   Preachers was already on mission in France, Spain, Italy, England, Hungary, Poland, Greece, Germany, and Scandinavia.   Four monasteries of the Dominican Sisters had been established, and plans were under way for expansion.
Today the Order of Preachers is worldwide and includes priests, religious brothers, contemplative nuns, and active sisters as well as thousands of lay people who have dedicated their lives to the proclamation of the Gospel.   The dream of Dominic is continuing to be realized on our own time.
The Dominican shield first appeared in the early 15 th century when the Order of Preachers began using this coat-of-arms for identification.   The shield features a parted blade mantel of the habit on a white field.   The coat-of-arms helped establish our awareness of the Order.
Dominic's Charism
This offers contemporary reflections on the charism, or unique gift, given first to Dominic in the 13th century and passed on to disciples of the spiritual path he established.
Mary Catherine Hilkert: The Dominican Charism: A Living Tradition of Grace
…the future of the Dominican charism in the church of the … on the experiences of Dominicans and Dominican groups in difficult conflictual situations. …

Jeremy Miller / Simon Tugwell: What Is the Dominican Charism?
What Is the Dominican Charism? An Exchange of Views … but how Dominicansfunction, the "how" which typifies the Dominican tradition is …
http://www.spiritualitytoday.org/spir2day/823435miller.html

Bologna Document on Dominican Family
4.2 The Dominican charism of preaching is continually nourished by the Word shared in community. … a rapidly changing world Dominicans listen to and welcome …

Ordo Praedicatorum " Charism
The Charism. What were the essentials of the Dominican life? How would the Friars live? … Dominicans are to be like other preachers sent out long ago, two by …

Liam Walsh, O.P.: Dominican Family, Call & Response
… stories of such Dominicans would include the three Dominican priests in Valencia … If this is so, is the Dominican charism really evangelical? …

Dominicans of Canada
http://www.dominicains.ca/english/family.htm

Dominican Laity — Guy Bedoulle, O.P.
http://www.dominicains.ca/english/family/laity.htm

The Dominican Family — Fr. Isidore Clarke, O.P.
http://english.op.org/vocations/family.html

A guide for discernment
http://www.opwest.org/Ministries/Vocations/
…discernment.htm

The Dominican Charism and Higher Education
— Dr. Aurelie A. Hagstrom
http://www.providence.edu/About+PC/College+Publications/
…providence+magazine/The+Dominican+Charism+
…and+Higher+Education.htm

Dominican Third Order, with links to "who we are"
http://www.3op.org/

The Dominican Accompaniment: Presence and Mutuality Rome, January 2005 Sr. Margaret Ormond, OP
http://www.op.org/dsi/Portada_en.htm

Interview with Sr. Marie Therese Hanna of the Dominican Sisters of Saint Catherine of Siena, Iraq, on the INTERNATIONAL DAY OF WOMEN Rome, March 8, 2005 Sr. Margaret Ormond, OP http://www.op.org/dsi/Portada_en.htm

Justice and Peace http://www.op.org/dlc/justiceop/justiceframe.htm

Dominicans at the U.N.
http://www.op.org/dlc/UN/unframe.htm

"The Dying that is Mission" Chrys McVey, O.P. July 30, 2004
http://www.krakow2004.dominikanie.pl/enghomilies.php?txt=capitulum/en/hom/speech04.html

"Obedience until death: Freedom engaged in mission" Sr. Mayte July 30, 2004
http://www.krakow2004.dominikanie.pl/enghomilies.php?txt=capitulum/en/hom/speech03.html

"Religious Life in the World that is Coming to Be" Timothy Radcliffe, O.P. August 7, 2003
http://www.op.org/domcentral/library/coming2b.htm

Dominican Saints (links)
http://www.op.org/domcentral/trad/shorthistory/default.htm

Justice and Peace websites of the Dominican Order
http://www.op.org/dlc/justiceop/opjp.htm