Our Mission Statement
Hawaii Region
We, the Dominican Sisters of the Most Holy Rosary of the Philippines, Hawaii Region, are committed to the mission of Jesus and of our founders, as we live out our charism to contemplate and share the fruits of our contemplation(Contemplata et aliis tradere), dedicate ourselves to being authentic witnesses to the truth (Veritas) as we Praise (Laudare), Preach (Praedicare), and Bless (Benedicere). We are called to minister to the people through the education/formation of youth, and pastoral and social assistance. We seek to embrace the kaleidescope of cultures and nationalities in meeting global needs, joyfully working independently, sharing our common vision, hopes and dreams.
In response to where we feel God may be calling us to be for the Region and the diocese,
We see ourselves:
Engaging in childhood education, education to the disabled, and in all aspects of adult education.
Involved in outreach services provided for those imprisoned, homeless and in the hospital and elderly.
Facilitating as well as providing facilities for Retreat work
Expressing our creativity through various other services
In the next three years we collaboratively seek to accomplish:
The strengthening of our community life and life of prayer
The encouraging and engaging of our Sisters in continuing education
The continuance of our present ministries of teaching and pastoral work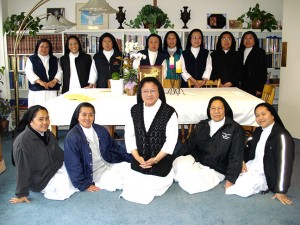 The Dominican Sisters, Hawaii Region belongs to the Congregation of
The Dominican Sisters of the Most Holy Rosary,
Molo Iloilo City, Philippines
HISTORY
St. Dominic de Guzman was born in Caleruega , Spain about 1170. His apostolic zeal of preaching and of saving souls brought him to Toulouse, France where the Albigensian heresy was rampant. In 1216, he founded the Order of Preachers, also known as the Dominican Order, to combat heresy through preaching and teaching. He died at Bologna, Italy on August 6, 1221, only five years after he founded the Order.
Many Religious Congregation of Women affiliated themselves to the Dominican Order. With Mary as our model we commit ourselves to our calling as contemplative religious women in action, who live in joyful communities and witness to Gospel values in our daily lives.
As dynamic partners of the life-giving ministries for the integral well-being of the people, we serve, especially the poor.
VISION:
We, the Dominican Sisters of the Most Holy Rosary of the Philippines ( OP Molo ), are called to sanctify ourselves and others through a life centered on the Eucharist and devoted to the Holy Rosary in the spirit of truth, prayer, simplicity, joy, service and compassion.
Faithful to the charism of St. Dominic de Guzman and founders, Bishop James McCloskey and Mother Rosario Arroyo, and committed to the evangelizing mission of the Church, we participate actively in building a God-loving, Humane and transformed society.